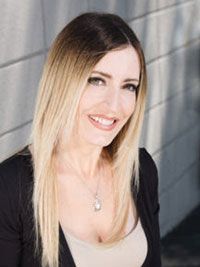 Maria Entraigues Abramson, co-director
Maria is currently Global Outreach Coordinator for the SENS Research Foundation co-founded by Dr. Aubrey de Grey. Her main goal in life is to help radically extend human health-span using new biotechnologies and regenerative medicine, so that one day to age will not mean to get sick.
Maria is an Argentinian-American singer, actress, composer, journalist and pilot. She is also a science and technology communicator and one of the leading voices in the field of Longevity. She came to the US for the first time after being granted a full scholarship to study at the prestigious Berklee College of Music in Boston, Massachusetts. She later moved to sunny Los Angeles where she's been established for the past 24 years.
Maria is a radical-change believer and spends her multifaceted life working on facilitating disruptive change to help the world. You can find her giving a scientific talk, singing live for thousands of people, composing and acting for a Hollywood film, doing music journalism, or flying an airplane.
Maria is also a staff writer and journalist for Músico Pro by Music Makers Publications, which is the biggest music magazine in Spanish.
In her music career, she's been privileged to have toured the world as a singer, recorded countless hours of professional studio sessions and composed and acted for movies and TV. Among the people she's worked with in the entertainment business are; George Duke, David Foster, Ricky Martin, Lalo Schifrin, Maurice Jarre, Luis Miguel, Eikichi Yazawa, Woody Allen, Sharon Stone, David Schwimmer, Kiefer Sutherland, Jonathan Rhys Meyers, Perry Ferrell, Alejandro Sanz, Jean Michel-Byron, Maria Grazia Cucinotta, Geraldine Chaplin, Brett Ratner, Alfonso Arau, Pepe Aguilar, Cecilia Noël, Colin Hay and many others.
She is now doing her own show in Los Angeles called "A Jazz Affair".
Maria is happily married to Gary Abramson.
---